Established in 1971, Leuven University Press' foundation goes hand in hand with the long-standing academic tradition at Leuven, which dates back to 1425. Leuven UP has a rich history of publishing academic titles across a wide range of disciplines and this broad spectrum reflects the diverse research areas at KU Leuven. Partnering with Consonance in 2017, Leuven transitioned from their older platform and through our system they have been able to trace back, access, and manage their publications with ease, maintaining a digital footprint of their publishing journey while they continue to develop and grow.
Leuven University Press has an international focus, publishing works in several languages, making its publications accessible to a global academic audience. Leuven UP effectively manages a diverse catalogue of more than 1600 active products through Consonance and publishes about 45 books a year, with the overall majority being in English, and to a lesser extent in Dutch, German, French and Spanish. Consonance seamlessly facilitates the complex metadata management required for global distribution and ensures that the necessary metadata aligns with international standards, making Leuven UP's publications available to distributors and retailers worldwide.
With its home in Belgium, being in the European Union presents specific considerations and opportunities for Leuven University Press, especially regarding data protection, standardisation, and inclusivity across a diverse market. Consonance handles the EU's GDPR requirements for safeguarding personal data sensitively and helps Leuven navigate the legalities of these regulations through user account permissions that prevent unnecessary disclosure of contributors' details such as addresses and phone numbers beyond business necessity.
Consonance also supports the EU's directive to make digital content accessible to all and through our 'thoughtful little innovations' helps Leuven UP to meet these accessibility standards. Incorporating metadata fields that indicate the accessibility features of their products, and integrated DAISY file accessibility checks, Leuven is able to communicate to retailers and libraries that their ebooks are accessible, with ease.
By addressing these EU-specific requirements and more, Consonance ensures that Leuven University Press maximises its potential in the European market, adhering to the necessary standards and regulations while also taking advantage of the unique opportunities the EU presents.
In line with the global trend in academic publishing, Leuven UP has been growing steadily in open access publishing since 2015, offering selected book titles to readers for free online while still maintaining their high academic standards. This initiative aims to disseminate scholarly knowledge more widely and democratically. As Leuven UP progresses on their open access journey, Consonance continues to effectively manage the specific metadata requirements for open access publications, ensuring they are appropriately tagged and discoverable.
For each partnership that Leuven UP formed, we at Consonance seamlessly integrated the list's data into Leuven UP's Consonance account, enhancing the information on upload to rectify any previous platform's data inconsistencies. This data was then smoothly incorporated into existing ONIX transmissions to major recipients worldwide including Baker and Taylor, Biblioboard, BDS, Boekenbank, CEPIEC, IPS UK, EBSCO, Gardners, JSTOR, OAPEN, Project Muse and ProQuest. Since the start of Leuven UP's collaboration with Consonance, we have dispatched over 5000 updates of product metadata in ONIX for them and continue to support their distribution requirements.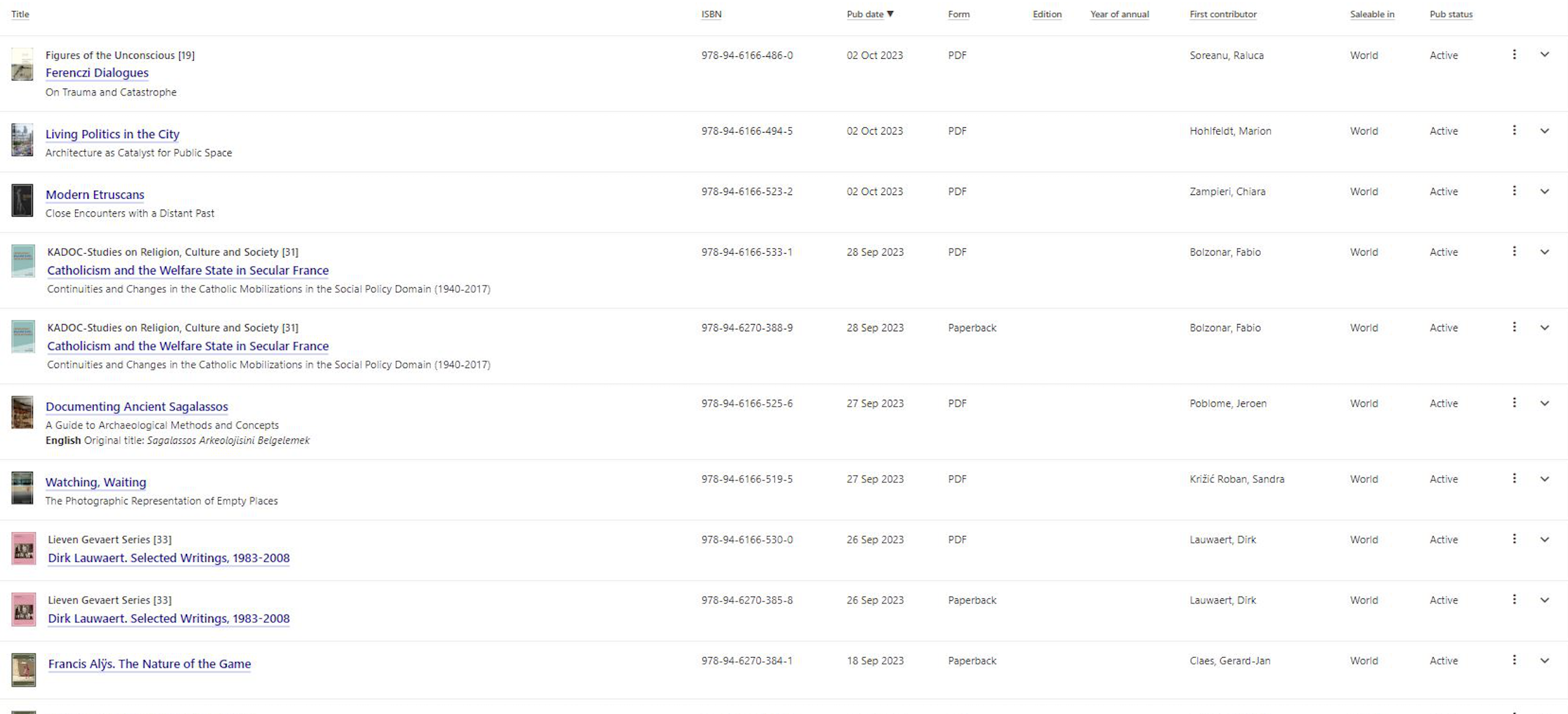 With Consonance's state-of-the-art publishing management system, Leuven University Press is poised for an exciting future. While honouring their academic publishing heritage, they confidently navigate the challenges and opportunities of today's digital global publishing landscape.
Annemie Vandezande, Marketing Manager at Leuven University Press, says:
"Good metadata is crucial for optimal findability of our publications. Thanks to Consonance we can efficiently manage, update and distribute our metadata to all our different publishing partners. If new requirements are needed, such as the new accessibility standards for example, Consonance takes care of the necessary adjustments. This way we are always up-to-date with new developments.".
Are your current systems sabotaging your growth ambitions? Are you hungry to implement new business models, but concerned you lack the strong administrative foundations needed for innovation?
We're always amazed at how resigned publishers have had to become to the low bar in publishing management systems. Demand more.
Contact us via our contact form, or email us.