The reality of running a publishing business is endlessly changing data, literally thousands of to-dos, and a complex network of distributors, wholesalers, printers, retailers, data aggregators and sales agencies, all with their own systems to keep updated – not to mention your database, all the spreadsheets, ONIX, the AIs, your catalogue, sales and royalties.
You know you should stop and get the publishing process more organised. Everyone's too busy firefighting for that to be an option, though.
But what if you could? What if migrating your legacy data was straightforward? And it was then easy to keep every piece of metadata automatically synced, so there was one version of the truth across editorial, production, marketing, and finance, as well as all your external systems? To have every task neatly move in line with all your changing manuscript delivery and publication dates? For teams across your company – editorial, rights, production, marketing, sales, PR, finance – to share a united understanding of all your backlist and frontlist metadata, contracts and more? Your company could be efficient and futureproofed – within a few months.
"Hugely impressed with the interface and user design elements of Consonance, and the modern approach to system architecture which we feel is well placed to grow with us as our programme grows."

– Chris Box, Head of Sales Operations, Institute of Physics Publishing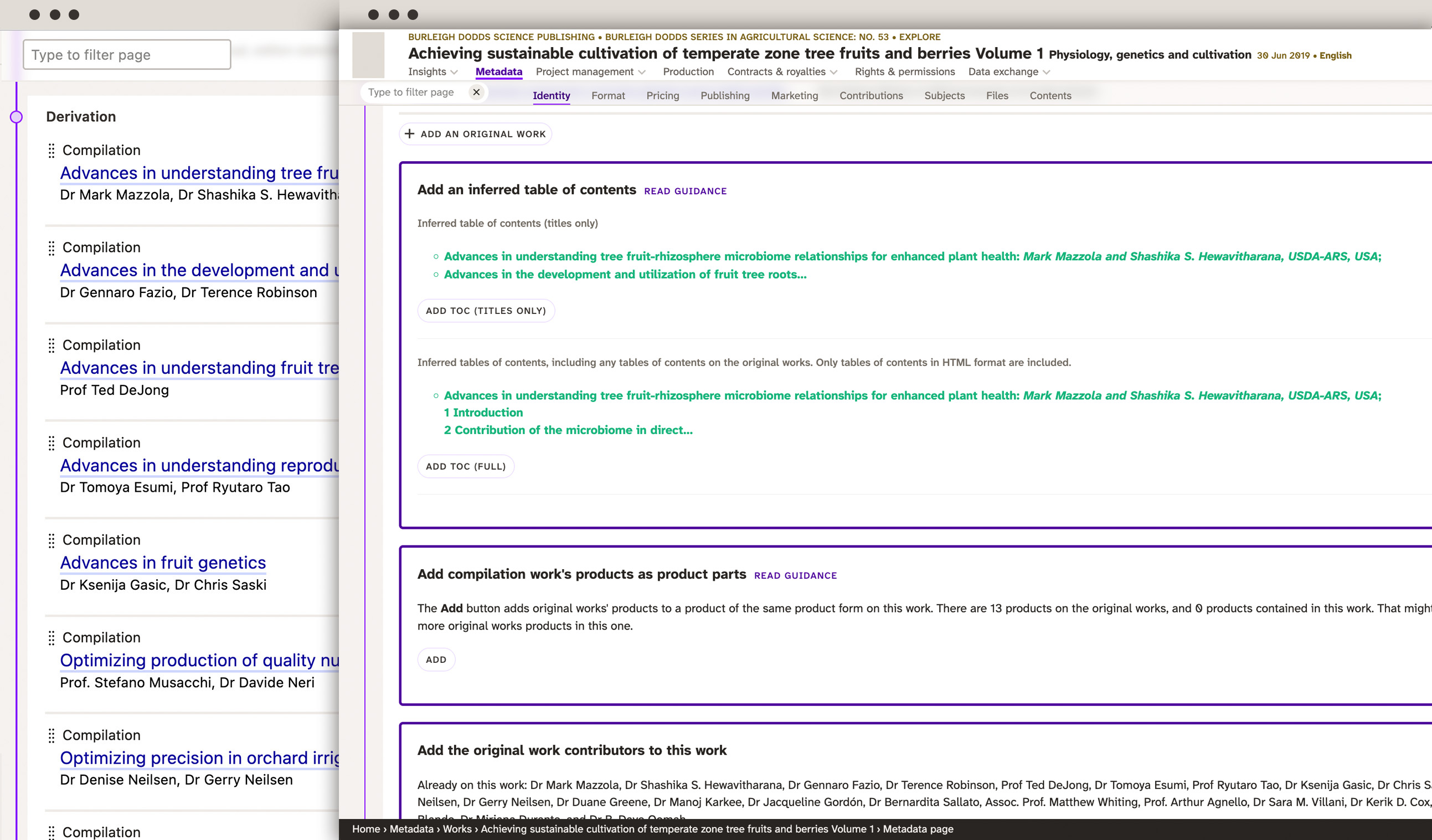 Agricultural sciences publishing start-up Burleigh Dodds Publishing went from a standing start to winning IPG Newcomer of the Year, using Consonance to structure their complex metadata
Yes, getting organised can be a huge project – but it doesn't have to be.
Get your publishing under control with Consonance, the title management system backed up by a crack team of publishing technologist experts. Follow the plan we use for publishers of all sizes, ages and complexity, for your success:
Data in, with ease. We start by using detailed templates to import your complex legacy product and contact data with ease, supplemented by our automatic ONIX importers.
One version of the truth. Now you have the holy grail: one place to see works, their products, contributors and all associated data.
Data quality. Next, radically improve discoverability through data checks that stress-test your metadata.
Improved workflow.Take control of how you publish, using to-dos that automatically update when publishing dates change.
Data out, with ease. We automate your advance information sheets, get ONIX capability by setting up ONIX feeds, define custom reports, and set up third party integrations so all your teams are on the same page.
You'll have a beautiful, complete, one-stop-shop system – your futureproofing against whatever publishing faces.
"I'm confident our ONIX metadata is good"

– Nick Judd, Pharmaceutical Press, publisher of the annual British National Formulary
Book a demo and, for just £55 per user per month, join the hundreds of other publishing professionals who benefit from working in:

...By streamlining and automating processes it has freed up many independents to focus on their publishing. One said: "Consonance is a game-changer for us...it's transformed how we manage our titles and our metadata. It's so easy to use and does whatever we want it to do."

– The Independent Publishers Guild, on our GBS Services to Independent Publishers award
In no time you'll be taking advantage of your new solid foundation – running your publishing business, now and in the future, with maximum creativity.